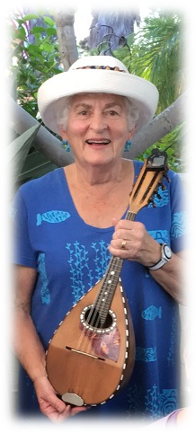 1. What year did you join SDMO?
I joined the SDMO in 1982!!
2. Why? We were on a family outing at Seaport Village on a Sunday afternoon with our 4 young children when I suddenly heard mandolin music! I was stunned!! I followed the sound and, lo and behold, there was a mandolin orchestra in the white gazebo!! The players were all dressed up – women in BEAUTIFUL long skirts, (old world Italian looking skirts), and men in …? I don't remember. I was MESMERIZED by the music!!! It took me back to my childhood at home in my Italian family and community. The orchestra then took a break and the players came out of the gazebo. I went up to an older Italian woman and told her how much I LOVED it!!
I told her that I played mandolin as a child but had forgotten it all. She said, "Just come and play one note in each measure and you soon get it." I said "I think I even forgot how to read music." She said, "Just come!!"
She was to become my dear friend, Rose Malanga. I listened to her, have been in the SDMO ever since and have given many people Rose's same advice over the years!

3. Why did you stay? I LOVE it and the SDMO members!! It lifts my spirit every week!! It is food for my soul!!
Neil, never missed a rehearsal, even in Zoom with Teresa