The San Diego Mandolin Orchestra
Over time, people have found their way here to Southern California from all over America and from all parts of the world to this semi-arid, semi-tropical, region also described as "semi-miraculous" with its hospitable year-round Mediterranean climate. Likewise, the members of the San Diego Mandolin Orchestra have discovered their place, here in the sun, here to cultivate their musical talents with the eclectic genre of international and Americana musical creations of both then and now. The sounds of the mandolin family of instruments resonating together in harmony is nothing short of semi-mesmerizing for both the listener as well as the musician. This is why the satisfaction that springs from playing in a mandolin orchestra is an art form that is so regenerating. With over a fifty-year period of playing mandolin music, with rhythm and support from guitar, the San Diego Mandolin Orchestra is gratified to be affiliated with forty-five other mandolin playing organizations coast-to-coast which make up the Classical Mandolin Society of America.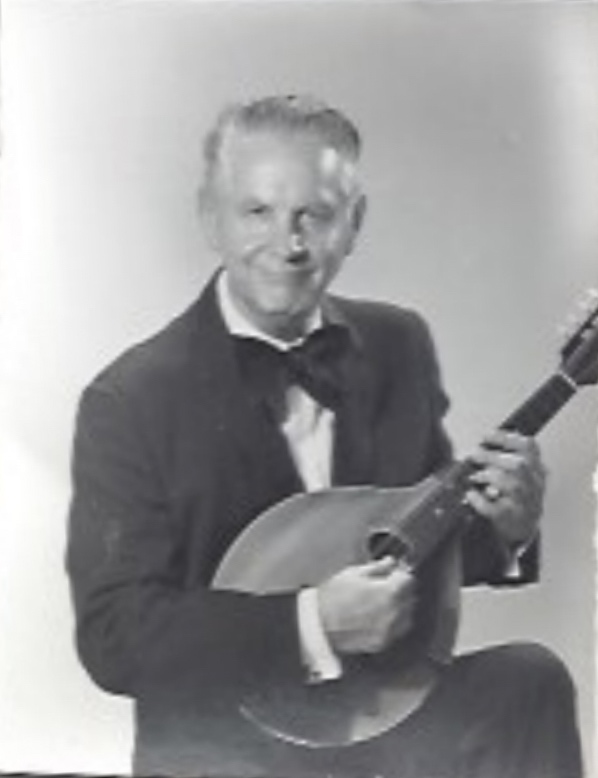 The orchestra has its geneses with that of the fretted-string instrument adult education class once held at a local area high school launched in 1968 by Victor De Guide (left and in orchestra picture below 2nd row, far right), a viola adaptee from the Chicago Philharmonic.
Our History
Other persons helped to build and maintain the size and quality of the orchestra such as Eugene Vacher (right) retired Army Bandmaster.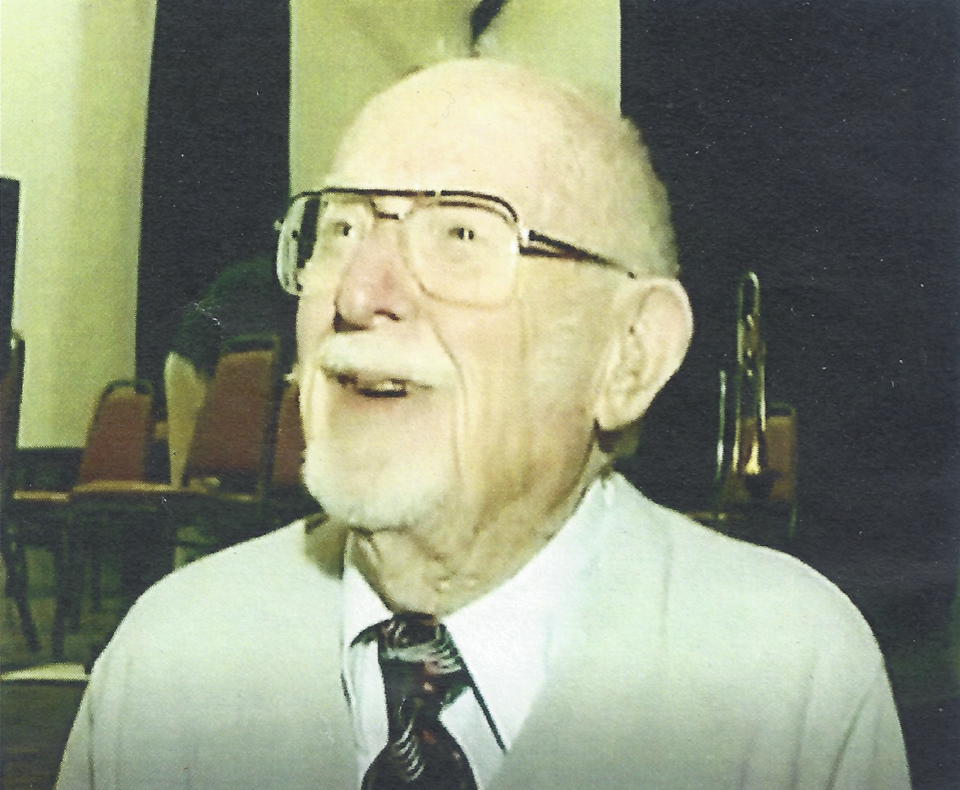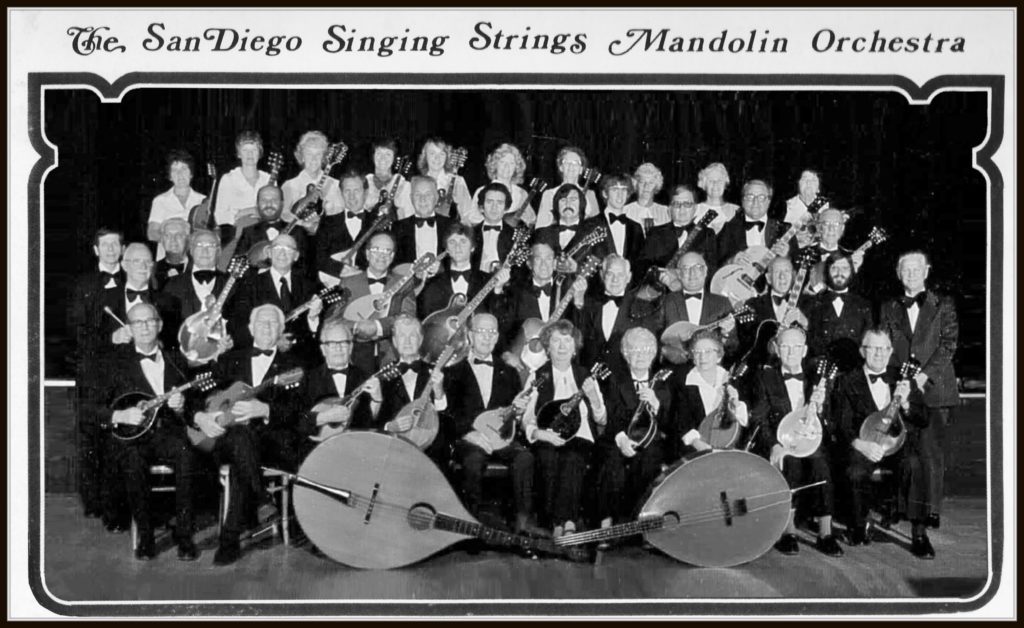 Formal photo (circa 1979) served as jacket imagery on the premier LP (33 RPM) album recorded and cut by the orchestra. Known then as The Singing Strings; est. 1968, senior conductor Victor De Guide (2nd row, far right).
Assistant conductor; Irwin Sturm (Above picture, bottom right front row), the first concert master; Dr. Everson, dean of the evening adult school at the time, who recognized the value of preserving the nature of plucked stringed instrumentation for the community; and Frank Smith, a proficient guitar player, who joined the group in its infancy and provided a starter library of printed music. Meeting Wednesday evenings during the academic school year, Mr. De Guide emphasized the specialty of the mandolin family instrumentation. Interest in this unique variety of strings continued to attract participation. The group grew in numbers and in talent sufficiency for concerts as an orchestra. Prior to his passing, various public venues had become the stage for performances by the "Singing Strings", as he had introduced it to the community at-large.
Through the decades to the present, the orchestra has performed at many and varied places and for a wide variety of occasions, including hospitals, churches, fund raisers, wedding receptions, retirement centers, conventions, banquets, shopping center attractions, community parks, bank lobbies, music festivals, even on a flatbed float one year down Broadway in the annual San Diego Poinsettia Bowl Parade.
For a while the orchestra operated independently outside of academia. During this interlude, a non-profit identity was formulated and managed by mandola-member, Imel Willis, to provide for cohesion. A fund-raising strategy enabled the retention of the otherwise "summer" conductor Jim Trepasso who was willing to step up and lead as the recognized conductor. During this period of our history, three LP albums were cut which not only served to memorialize this era of the club but then offered the organization another revenue generating tool. Looking back, nothing could have been more eventful at our zenith than two full-scale concerts, in the early '80's, based on ticket sales, where the San Diego Mandolin Orchestra was seen and heard at the East County Performing Arts Center. These evening stage events delighted the public with the addition of specialty numbers from our members; to hear Sam Freeman, who recorded Lara's Theme in the movie Dr, Zhivago; Joe Cafiero, of Italian roots having played with the Dave Apollon Mandolin Orchestra (Las Vegas) and toured with Bob Hope; and Ken Culver, a visiting guest concert master from Portland's Mandophonic.
Eventually, Mr. Trepasso found an opportunity and took the initiative to transition the group into a college setting. Today we are structured under the San Diego Community College Continuing Education program at Mesa College allowing practices to be held mid-county, whereby we still gather every Wednesday evening. With the class course now a permanent and popular part of the curriculum, and the conductor an esteemed part of the faculty, a local de facto conservatory has thus evolved for the field of mandolin music. Furthermore, the institutional setting facilitates the promotion and awareness for new member recruitment with each and every new semester. For all of this, we are most thankful.
Our Conductor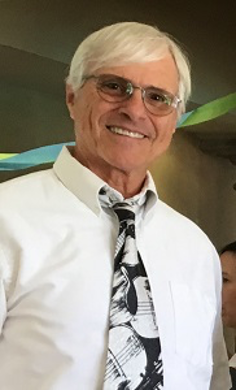 James Trepasso started his teaching career in 1968 at Northern Michigan University. After a dutiful stint in the Armed Services playing in the United States Army Band, he returned to Northern Michigan University and obtained a masters degree in music. He subsequently taught at St. Louis High School, Michigan; then Coronado Unified Schools, California; and retired as a music teacher from the San Diego City School District in 2009. Over the years, he has received many awards including the Rotary Excellence in Education, Music Teacher of the Year for Secondary Music, Music Teacher of the Year for Elementary Music, Retired Teacher of the Year from CMEA (California Music Education Association), also many awards from his school in the district.
Mr. Trepasso remains active in music education. He repairs instruments for the San Diego City School District, serves on the Board of Directors for both the Community Council for Music in the Schools and Band-At-the-Beach Music Camp, and was the previous conductor of the historical San Diego City Guard Band. He plays horn in the San Diego British Brass Band, trumpet in the San Diego Concert Band, mandocello with the "Fifty Strings" mandolin ensemble, and euphonium in the City Guard Band. Naturally, the members of the San Diego Mandolin Orchestra are grateful for his devotion to our plucked strings endeavor where he is loved and affectionately referred to as "Jim".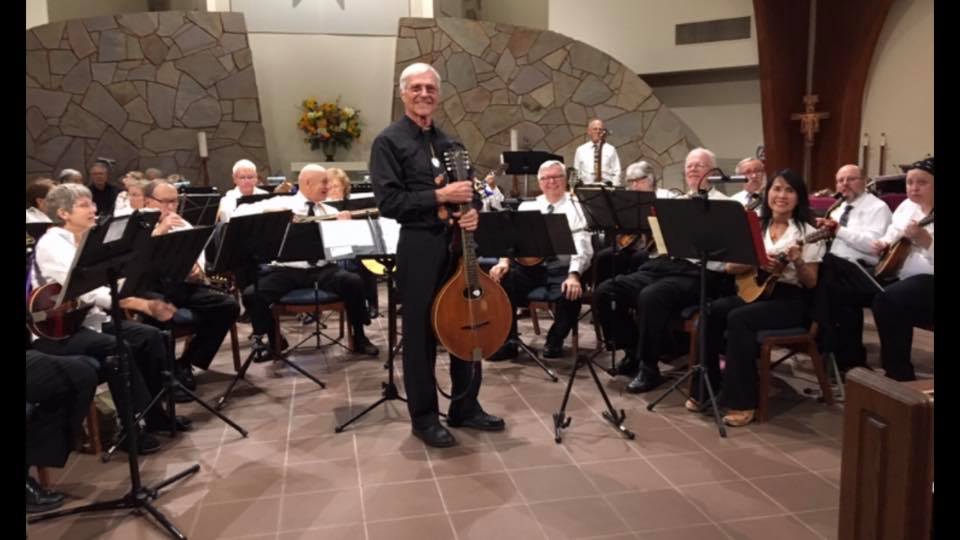 Our Members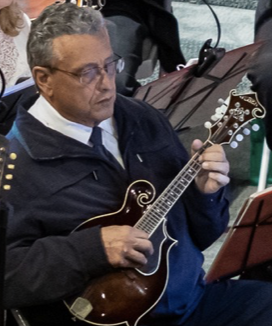 Mr. Ted Scafidi, as a retired electronics engineer with the U.S. Naval Air Systems Command, our concert master and soloist found his way back to strings in mid-life when his wife bestowed to him a freshly minted Gibson F-5L mandolin in 1989. Self-taught from the age of 13, Ted Scafidi was drawn to and emulated mandolin recordings, in the way Mozart was enveloped by a harpsicord at an early age. Mr. Scafidi joined our orchestra in 1990, and has served in the distinction of 1st Chair for over 20 years. Once, he was with a mandolin trio in the orchestral accompaniment for Romeo & Juliet by the visiting Stuttgart Ballet.
Our roster is made up of about thirty-five to forty men and women, a count which we hope will continue to grow. While a little more than half are retired, others work full-time and yet commit to regular weekly practice. These musicians form sections to comprise an orchestra of mandolins, octave mandolins, mandolas, mandocellos, basses, a zither, and guitars. Like other orchestras in North America our instruments are diverse brands, both old and new, round and flat. Notably, some instruments in the group were custom made with precision by other member luthiers in the group. At the time of this writing, in addition to California and our native San Diegans, our members hail from all over the States: Connecticut, Hawaii, Indiana, Illinois, Michigan, New Jersey, New York, Texas, Virginia, Washington, and Wisconsin. This list will grow from time to time. Our music too echoes our multinational representation with members who are originally from Canada, Chile, France, Korea, the Philippine Islands, Venezuela, and Vietnam, along with a generational representation from Italy, Mexico, Portugal, and others. For one newlywed sweetheart couple, the bonds of music brought forth the bonds of marriage. For yet another longstanding mando-couple, sweet music has meant sweet years.
A Bit more About Us
(Listed alphabetically – click on each picture to read more)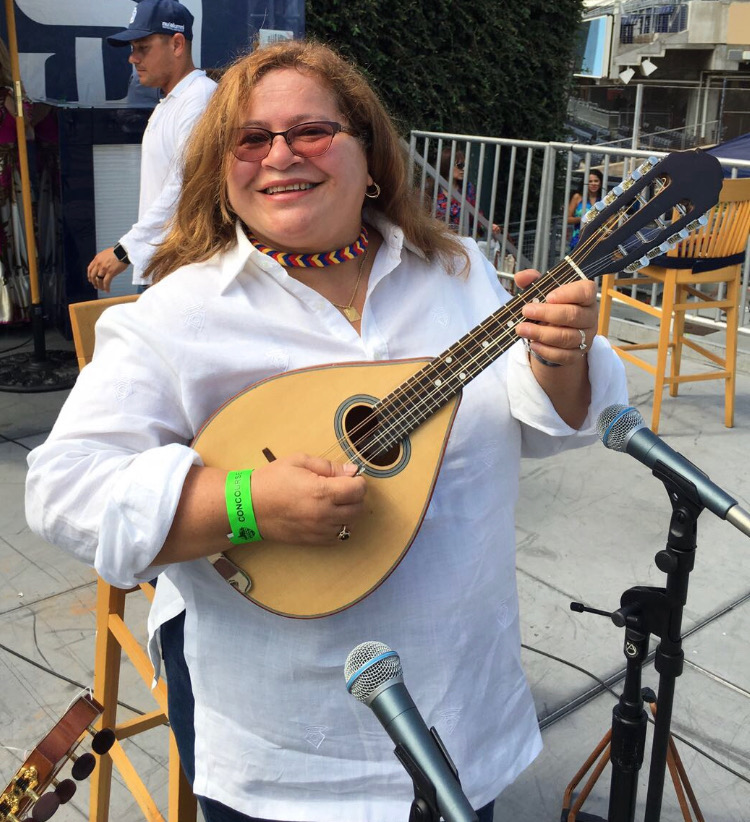 Past Members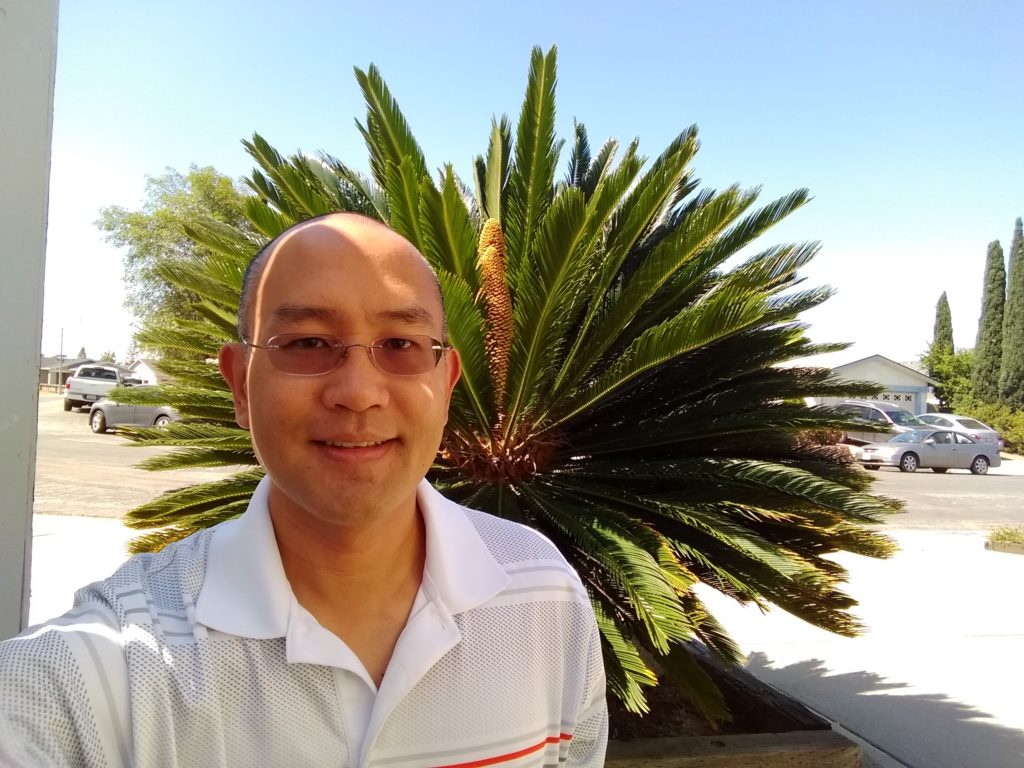 Our Area
You can't get any more southwesterly in the continental United States than San Diego. Our orchestra members arrive each week for rehearsal coming in from all directions in the county. It is a geopolitical island with the Pacific Ocean, on one side, to the west; the international border, with Mexico, to the south; the Pacific Coastal Mountain Range, separating us from the vast Sonoran Desert, to the east; and the Camp Pendleton Marine base, buffering the Los Angeles metroplex, to the north. As a mandolin family of instruments musician, if you are planning a trip to San Diego, we hope you'll try and find us and have some fun practicing with us. You can put us on your own checklist of things to do in San Diego. People often think of the beaches, the maritime, Anza Borrego Desert State Park, Mexico (passports required), and Sea World. You will find diversion and options aplenty with the museums and zoo at Balboa Park. While here, you might have a chance to catch a free concert held every Sunday afternoon (2pm) at the Spreckels Organ Pavilion built for Panama-California International Exposition (1914); it's the world's largest outdoor organ, now with 5,017 pipes in 80 ranks. The county here is home to the Museum of Making Music, located at the National Association of Music Merchants, which is of special interest. Acclaimed historical sites such as the Old Point Loma Lighthouse & Cabrillo National Monument, San Diego Mission, and the Star of India iron-hull sailing ship also draw crowds.
We hope all San Diegans, and visitors alike, have a chance to experience the San Diego Mandolin Orchestra and appreciate the heritage of the music we offer in fulfillment of our expressed Mission and Vision.
Written by Floyd Willis
Photo Archives – coming soon
For Questions or Issues with the website
webmaster@sandiegomandolinorchestra.org